By Ken Carman
 I didn't take any pictures this year, but my cousin Joyce did, so I decided to edit this and add them in. (Later info came in, Dorothy Joyce's daughter actually took them. Probably the weird angles had to do with WAY too much beer? A joke.) Hence the second posting. She is standing there with a beer she was serving. I was grateful she walked around and helped. Next year I may shift this event until the Twitchell Lake people come up towards the end of September, or even Columbus Day because we were competing with a chicken dinner this time and next year. That's an event that I've been going to since I was a kid, but it was always on Saturday. I have to ask Mark Franey and do some footwork asking others.


Joyce Lovelace
 I was going to post a picture of Mark Franey, who made it again, but I forgot for some reason the site dumped all pictures last year. He always does a great job and whatever animal he chooses for a hat that day helps too. I think one year a helpful beaver undam-ed a tap.
 There's a dirty joke there, but I'm NOT going to use it!
 There is one of him here from cousin Joyce's stash.
 My cousin Joyce, her daughter and husband: Dorothy and John made it again, as well as friends Lisa and Matt. They tented in my yard, Joyce stayed at Norridgewock along with her grandson. Max, JR.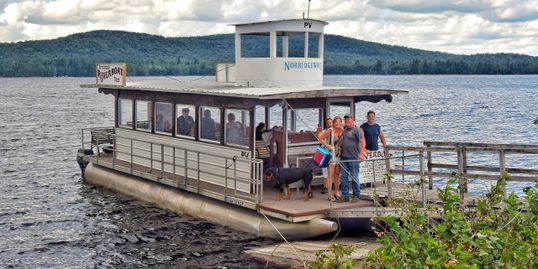 How most of our tasters made it to this quaint railroad town with no roads going to it!
 Mark has many beers including, but not limited to, a light ale with various fruits like cherry. We started out with a simple brown ale. I introduced the London Brown Braggot I brewed in Eagle Bay this year. Immediately everyone who tried it morphed into John, Paul, George and Ringo. Pete Best and Stuart Sutcliffe showed up but since they were Beatles rejects we fed them to the Stillwater shark with just a light coating of Gray Poupon. I served two beers from Nashville breweries and Marcy, NY. Jitter Juice was a fruit coffee beer. I don't remember the other two.


Mark in chair.
 One beer from Empire had lavender in it was an unremarkable ale, but the lavender was interesting. One quaffer said he'd never had a good beer by them. I'd rate this as not bad, but not great.
 Last year I listed this affair as the 11th. I think it is actually the 13th.
 It was a good time for all.